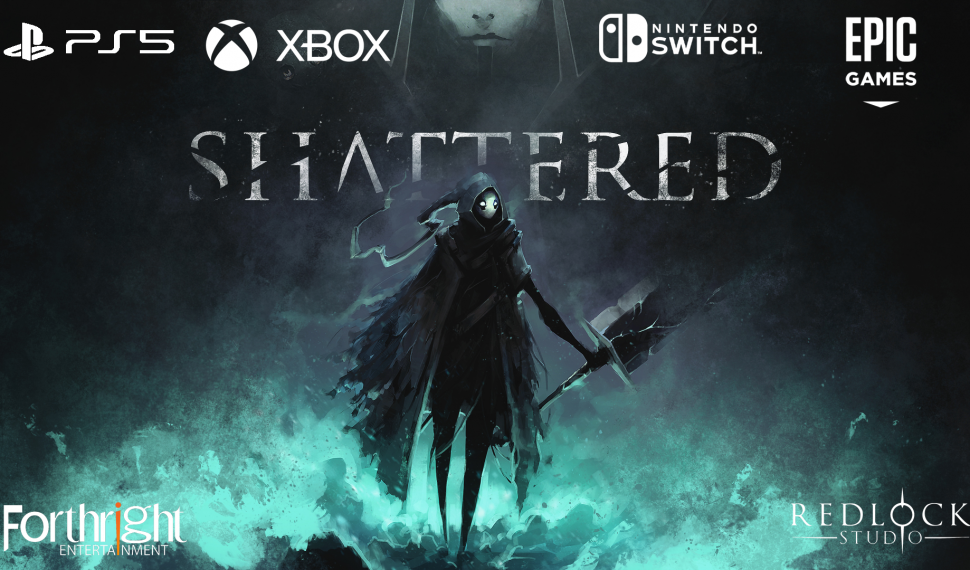 PC Indie Darling Coming To Consoles and Epic
Haunting Open-World Action

January 10th, 2022 – Knoxville, Tennessee – Publisher Forthright Entertainment and Redlock Studios will explore, slash, and hack their way onto Switch, Playstation, Xbox, and Epic Game Store in Q1 2022 with Shattered: Tale of the Forgotten King. The Epic MegaGrant recipient game has an intriguing story that unfolds a universe with deep lore combined with one of the most unique and breathtaking aesthetics from any game that was released last year.
About Shattered – Tale of the Forgotten King
THE OLD WORLD IS GONE, LOST WITH THE DISAPPEARANCE OF THE KING ?
The old world is gone, lost with the disappearance of the King. Reforge reality in this dark action RPG through skill-based combat, innovative open-world platforming, and the testimonies of survivors… some, more trustworthy than others. Are you ready, Wanderer?
Unique mix of 3D environment and 2D platformer
Captivating lore that stays engaging from start to finish
A sound-track that captures the atmosphere of each environment
Well-defined art style that creates an otherworldly feel.
Engaging combat system that utilizes a variety of weapons and magic.
— ENDS —

Press Kit: https://www.igdb.com/games/shattered-tale-of-the-forgotten-king/presskit
Discord Link: https://discord.gg/rTvAfzf

Launch trailer: Shattered – Tale of the Forgotten King Official Release Trailer
Website: http://redlock-studio.com/
Steam: https://store.steampowered.com/app/1045180/Shattered__Tale_of_the_Forgotten_King/

Press Contact: support@forthrightentertainment.com

About Redlock Studio
Redlock Studio was born from the desire to create complex and captivating virtual worlds. Shattered is one of the first stones. They are a French video game studio based in Lyon and Grenoble, having attracted many artists and developers since its creation. Twitter, Facebook
About Forthright Entertainment
Based in Knoxville, Tennessee, Forthright Entertainment is a boutique publisher of games for PC and consoles. We have a very simple mission, to position great game studios for global success by providing full-featured publishing services. Twitter, Facebook.